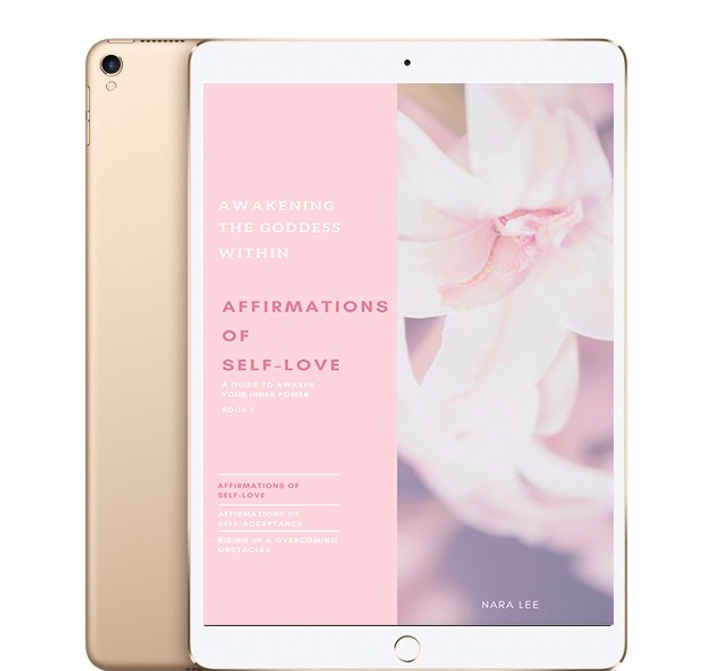 Self-Love: Healing Affirmations Digital Journey
Interactive Healing Affirmations of Self-Love
Watch Promo
Get Unstuck, and Open to Receive the True Love and Happiness you Deserve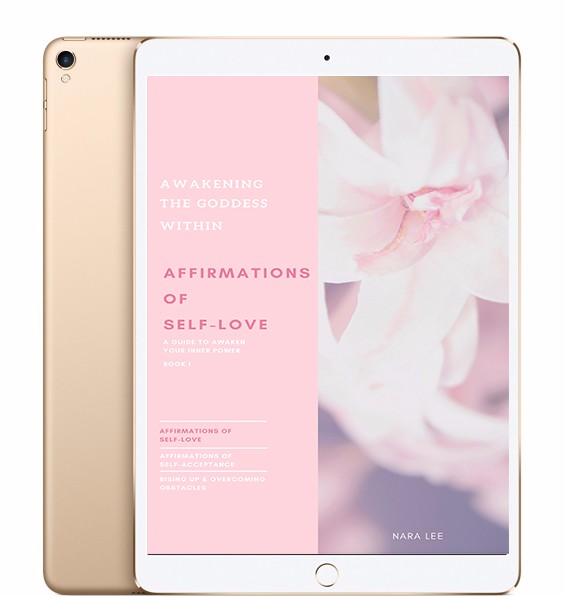 Is your emotional well-being and inner peace, fluctuating based on your memories of the past, or current external events?
Have you placed your happiness on certain conditions - such as looking a certain way, having a certain relationship look a certain way, having a specific sum of money in the bank account, or having your external life be a certain way, in order for you to be truly happy and complete?
Are you deferring happiness, for when all boxes are checked?
Do you always try to keep yourself busy in order not to feel pain?
Do you sometimes put yourself down for no obvious logical reason? Do you sometimes doubt yourself, and accept less than you know you potentially deserve?
Do you feel unhappy with your body image?
Are you looking for a way out but don't know where to start?
You deserve the Best and You already are Perfect, Whole and Complete, exactly as you are and where you are.
But do you really know it and believe it?
Awakening the Goddess Within© Self-Love Affirmations have been designed to help you restore your Personal and Inner Power, so you can easily, organically and naturally overcome any challenges - past or present - that are stealing your joy, radiance, peace and vitality.
If you live on an emotional rollercoaster - caused by past, present, internal or external circumstances, Love is the secret formula that can transmute all negative patterns, subconscious beliefs, and disempowering messages that you give to yourself, or that others give to you. In order to heal and return to your full power, and authentic confidence, there is nothing external you must do, but instead, everything internal.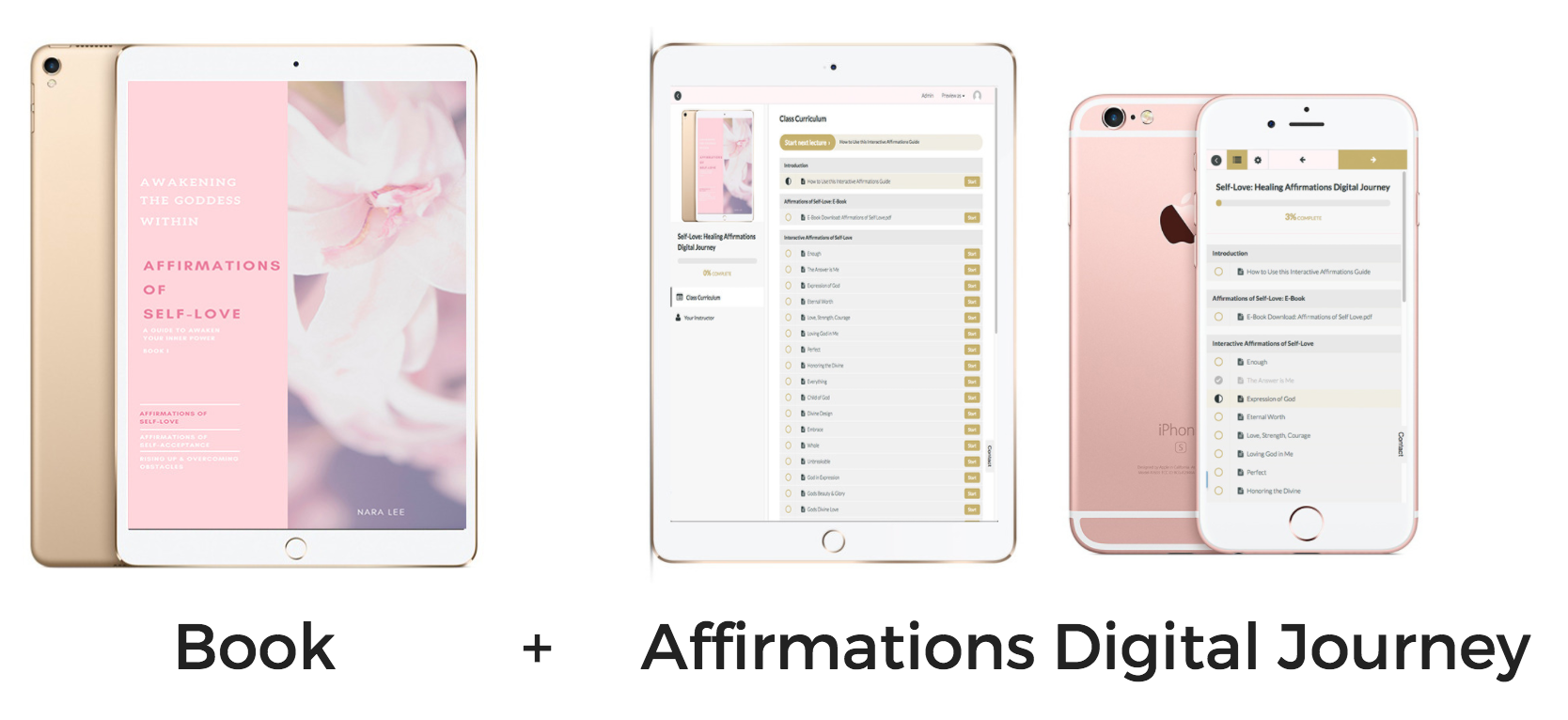 When you enroll in the Awakening the Goddess Within Self-Love Affirmations Journey, you'll receive:

A copy of Awakening the Goddess With Self-Love Affirmations Book: this book is practical and designed to give you an immediate boost of confidence, inner strength and self-love. Each page contains an affirmation of Self-Love that you can immediately focus on and recite.
Login Access to the Digital Journey: this has self-love affirmations in a digital format so you can easily access them on your mobile phone, instead of having to scroll through a book. This allows you to have a handy confidence and inner strength booster that you can use anywhere - in traffic, in the bathroom mirror, in a queue, or even in bed without much effort, thus always working on your positive self-image.
What can this Help Me With?
Healing from depression, anxiety, fear, self-doubt or any mental patterns or memories that drain your power

Creating more loving relationships, with yourself and others

Letting go of the past with more easy and grace, whilst opening up to receive better

Increasing your deserve level, to allow more authentic love, abundance and peace into your life

Develop Authentic Confidence that comes from within


Restore your Emotional Balance so that you can feel calmer, centered, empowered and happy with yourself

Trusting and Loving yourself more, regardless of what your current reality looks like

Developing Unconditional Happiness regardless of anything, or anyone
How is this Different from other Self-Love Affirmations?
Awakening the Goddess Within

Traditional Affirmations of Self-Love work on the outer layers of the self, thus not really providing deeper healing, authentic power and impact. These affirmations of Self-Love are designed to reconnect you and Awaken the Highest form of Love & Power:
The Divine God/Goddess Within you.
Designed to Immediately Improve your Self-Image

Whenever you struggle with low self-esteem, self-doubt, and a negative self-image, your mind needs to be reprogrammed to send you more empowering messages instead of disempowering ones, so you can automatically feel confident and strong from within. These Self-Love Affirmations give you that immediate boost of confidence, and produce lasting results if you work with them daily as part of your daily healing and empowerment ritual.
Designed to Lift you Up
Even when you can't get out of Bed
If you ever have a low day, where you feel down, depressed and simply can't find the zest in you, one session of the Self-Love & Self Acceptance Affirmations, will give you immediate results, and the inner strength and power you need to rise up and feel good about yourself that day.
Self-Love Healing Affirmations:
Digital Guide for Daily Practice
There are times in life when each of us is tested, and asked to rise up. This can happen through small or big events, such as a health challenge, domestic violence, the loss of a loved one, the loss of a job, confidence, a divorce, depression or break-up. Or it can simply show up in how you feel about your body, yourself or your life.
I created this self-love affirmation guide to help women reclaim their inner sparkle, glow, confidence, and inner power.

Most importantly, these affirmations are a prerequisite for any type of healing, for the solid foundation for healing, empowerment and authentic success is Self-Love. Without Self-Love, you are building a house, with no foundations to support and sustain you in the long run. These should be used in conjunction with your meditation practice or any other daily rituals and healing practices you already use.
No matter what is going on in you life or may have gone on, love is always the answer - the glue that makes all other pieces of your life stick together.
This Interactive Affirmations of Self-Love Guide, is a daily healing tool of positive affirmations, designed to reprogram your mind, with positive messages - specifically for Self-Acceptance, Self-Love and Overcoming Obstacles
The Story
Awakening the Goddess Within Affirmations©, were designed to help you heal and restore your confidence and inner power at a more rapid speed, so you can have the strength to face your day, life, or any challenge you may experience in life, with more ease, grace and a centered place.
In 2015 Nara Lee almost lost her life in a tragic incident of domestic violence. She then embarked on a long healing journey, where she discovered the healing power of affirmations.
Your Instructor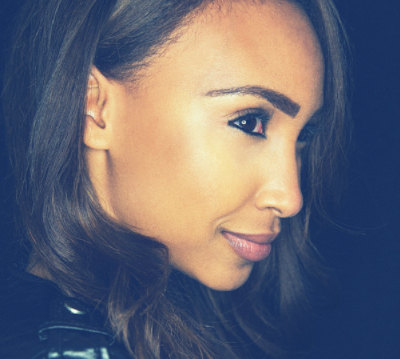 Nara Lee is a Transformational coach, Artist and a Entrepreneur. She helps women awaken their inner power and to tap into their hidden resources to cope with life's most challenging situations in order to create more Purposeful and Meaningful lives, aligned with their Life Purpose and True Authentic Selves.
She discovered this calling after an incident, in which she almost lost her life. At the time she was living in London and working as CEO of an international real estate company. She took time off and embarked on an incredible journey of self-healing and empowerment which led her to discover a hidden reservoir of potential and power that we all have but don't use.
You can connect with her on www.naralee.co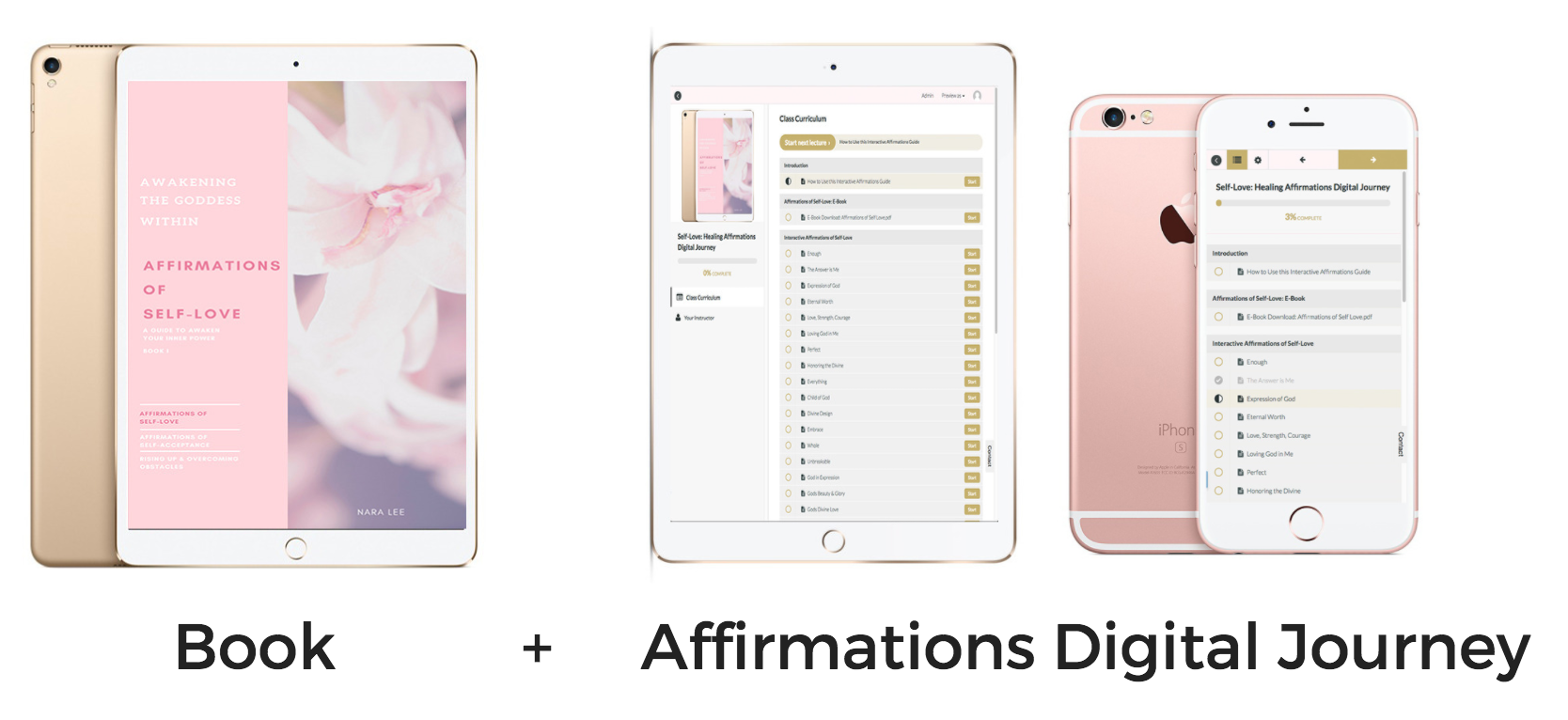 Frequently Asked Questions
What happens after I press buy?
After you buy, you will automatically receive a copy of your Awakening the Goddess Within Self-Love Affirmations book, as well as access to the online platform. A Welcome email will be sent to you with a copy of your receipt, and book for immediate download, and a second email with your login credentials for the digital journey.
How long do I have access to the Journey?
How does lifetime access sound? After enrolling, you have unlimited access to this self-love healing journey for as long as you like - across any and all devices you own.
How do I Access the Self-Love Affirmations on my phone?
Simply add your login page to your mobile or ipad home screen. Once you are logged in you can access the interactive journey instantly, anywhere, anytime 24/7.
Where can I speak to someone before buying?